Disclosure This post contains affiliate links and I will be compensated if you make a purchase after clicking on my links. I was compensated for this post.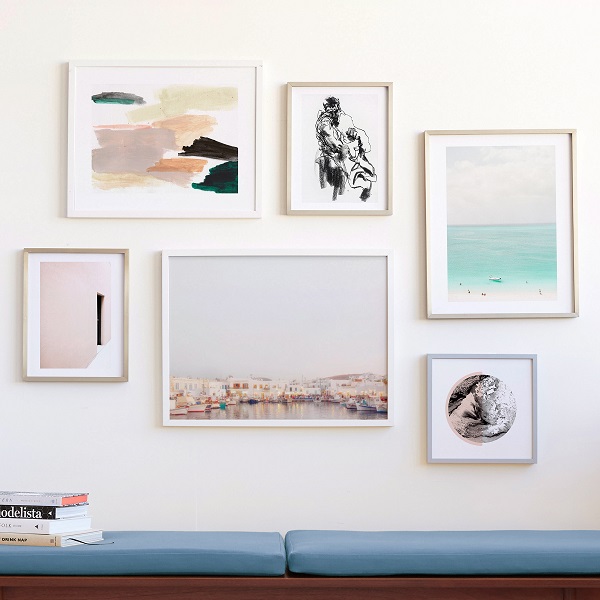 Over the last couple of years, I've turned to Minted Art to help me select unique prints from artists worldwide. Minted works with independent artists to bring consumers one of a kind art from around the globe. They also give you the option of personalizing prints as well as the ability to customize them by selecting from different color palettes and a variety of high end  quality frames.
I have ordered Minted Art prints for several rooms in my home but my favorite print is their Custom Foil Filled Map that's part of my gallery wall. This map features a view of were we live (my address has been edited out  for privacy), you can even see our church and preschool Jack attended, Dylan currently attends and Lucia will start going to this summer. Creating a map is super easy, simply provide the desired address and Minted will automatically show you a map to preview then just select the area you would like displayed, and they'll create a custom art print for you. You can personalize your print even further by selecting a foil color, frame and matting option.
Whether you are looking for a new piece of art for your home or you are in need of a one of a kind gift for a special someone, Minted can help you find and create the perfect art prints. From fine art, children's art, custom art and even commissions, there is something special for everyone. If Minted has been your go to site for holiday cards and stationary, it's time to take a look at their ever expanding art print collection. Trust me, you won't be disappointed.
ABOUT MINTED
Minted is the world's premier marketplace for independent design. Their mission is to find exceptional artists and designers from all over the world and bring their work to consumers who appreciate great design. Minted sources design and art from a global community of independent designers, then sells their best designs as fine products such as stationery, wall art, and décor for the home, holidays, and occasions. Minted Art launched in May 2012 with the same ideology in mind — a carefully curated selection of limited-edition art prints created by a global community of artists.